The Kalka Shimla Railway was built during the British rule in India with an aim to connect by Shimla the summer capital of British Indian rail network. The rail network holds the Guinness Book of World Records for its 96 kilometers steepest rise in the altitude with crossover of 800 bridges and viaducts, it is one of the most beautiful hill railways in India. It was considered the "crown jewel" of the Indian National Railways during British times.
Kalka Shimla Railway (KSR), a 96.6 kilometer long a single track working rail link was built in the mid-19th century to provide a service to the highland town of Shimla, it is emblematic of the technical and material efforts to disincline mountain populations through the railway. The world's highest multi-arch gallery bridge at Kanoh and the world's longest tunnel at Barog(at the time of construction) of the KSR were the testimony of the brilliant engineering skills applied to make this a dream a reality. Then the Shimla region took on considerable political importance as the Indian Colonial government decided to take up summer residence there, because of the healthier climate linked to the altitude. The question of transport to the Himalayan foothills, the Delhi region and the Ganges plain then became crucial. The possibility of rail link was mentioned as early as 1847.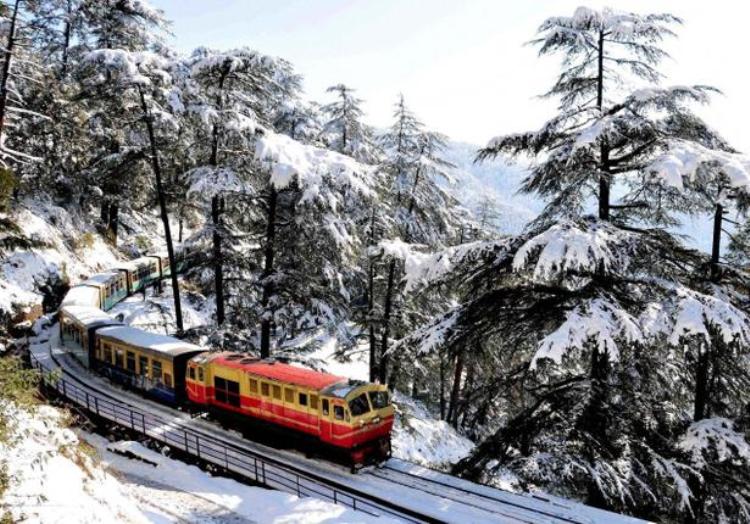 The 96 kilometer narrow-gauge Kalka-Shimla Railway, often called the toy train line, was opened in 1903 to connect Shimla, the summer capital of British India, with the northern plains. In the same year carriages were built by the Railway onwards. The
The Kalka Shimla rail journey
The rail line begins its climb almost immediately after its departure from the Kalka railway station. The toy train chugs along the line, whistling through the deodar, pine, ficus, oak and maple woods at a speed of 22 km an hour. As the journey begins, one is taken in with the change in vegetation, and the majestic glory of the railway stations and Gothic-style bridges en route.
The most refreshing part of the journey is the experience of sitting by the window, breathing in the cool breeze and taking in the greenery, smell of fresh dew on the vegetation, the chirping of birds and the sight of cattle grazing around the track, especially if you are traveling in either of the two early morning toy trains.
Total change of altitude: From Kalka, 655 meters (2,150 ft) to Shimla of 2,076 meters (6,811 ft).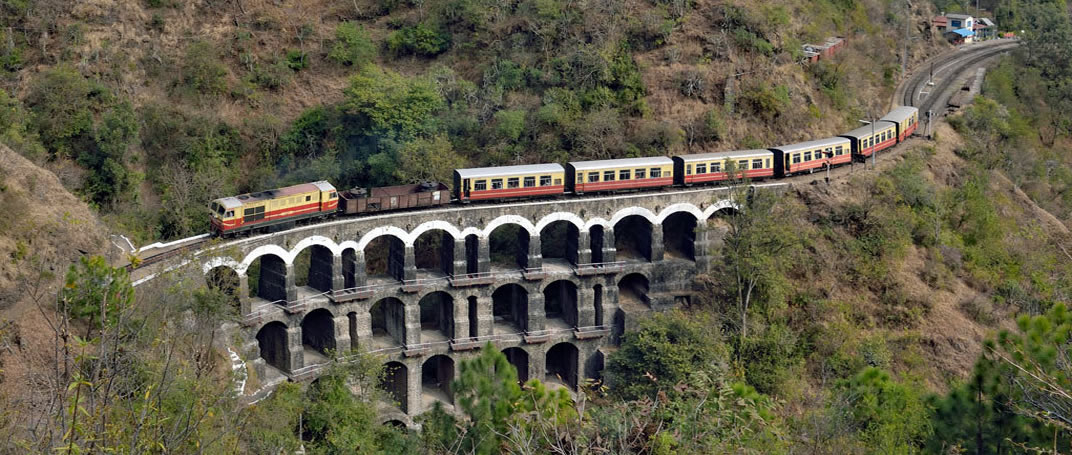 Kalka Shimla Railway: Quick facts Train
| | |
| --- | --- |
| Train Gauge – Narrow (762mm) | Track Length – Over 96 Km |
| Project Launched in – 1898 | Project Completed in – 1903 |
| Train Service Commenced – November 9, 1903 | Bridges – 864 |
| Longest Bridge – Near Dharampur (70 m) | Construction of Kalka – Shimla Railway tracks was begun by the Delhi-Umballa- Kalka Railway Company in 1898. Chief Engineer was H.S. Harington. |
| Longest Tunnel – Barog (1.1 Km). Alignment chosen with help of the workman named Bhalku, resident of Village Jhajja near Chail. | Tunnels – 103 (1 not in service) |
| Maximum Height – above 2000 m above sea level | Curves – 900 (70% track is in curves) |
| Train – After 1965, hauled by Diesel Engine | Maximum Number of Coaches – Seven |
| Services – Seven coach train and rail car. | In 2007, the Himachal Pradesh Government declared the Railway a Heritage Property. |
| UNESCO conferred Heritage status on 10th July 2008 & listed under: "Mountain Railways of India". | The track with its nineteen stations between Kalka-Shimla, is supposed to have been built on exactly the trace given by Bhalku (Courtesy, Minerva Publishers & Distributors, Shimla - 171005 |